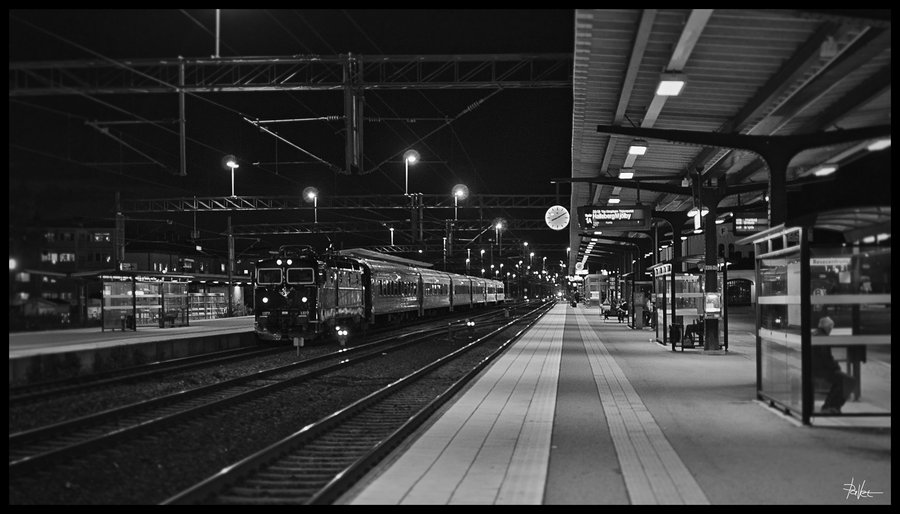 11:45 PM
The train was supposed to be at the station. I was supposed to be in the compartment. Luggage underneath the lower berth, my head underneath the blanket. But then, I was supposed to be somewhere doing something, happily. Things never go as per plan! At least in the last few days, it didn't go that way.
Rejected in VISA approval tests. Failed attempts in clearing finals. Accumulated installments of unpaid loan. Unemployment. And tragic demise of grandfather. Broken emotionally and financially.
The city felt so lively even at the twelfth hour, buzzing with youths on two-wheelers out in the city enjoying hot masala-chai on a chilly winter night or couples returning to their place after a well spent evening at some posh restaurant. There were random passersby pedaling their bicycles with pace to replace the person on duty. Sadly, these people felt more cold than the guys returning from work. There were engines revved up to the call centers to attend clients sitting in far west. And then, there were dogs barking at strangers.
Still, a stranded dog has far more reasons to feel better than a rejected and dejected urbane in his mid-20s.
11:50 PM
I checked my tickets twice. At the right platform, right time.
But then, I had checked all my VISA details twice. Again right place, right time. Or was the time right? Didn't miss a detail. Everything was mentioned. Everything. Mentioning that the only person in my family was a debt-struck grandfather was everything. And VISA to return disappointed to grandfather's place was approved. REJECTED in bold and not-at-all beautiful letters!
Mess up one thing and you start repeating it in all other things. Finals were a repeat of VISA fiasco except that I supported it hopelessly by not preparing. FAILED in bold and not-at-all beautiful letters!
Unemployment was to follow when there were 'cleared in first attempt' jobless available in market.
With broken dreams and a flicker of hope, all you can set your eyes on is the city of dreams. The train would arrive and carry loads of dreams; some would reach destination, few would survive and the rest would return in the same train.
11:55 PM
There is nothing left for me in this city. No reason to return!
Grandpa was a reason for years of my stay there. The reason was no more.
Every time I left the city, I had him standing beside me waiting for the train, and then waving me back as it chugged off the station.  This time the wait seemed longer than usual.  Grandpa was my family. No family, no home!
I am done with this city. 
00:00 AM
I can't wait here anymore. Where the f**k is train?  
'Driver's birthday! Must be having his piece of cake.'
And there, they were, the other two musketeers. They have been with me since my school days. They were there when grandpa passed away, while I was facing a so-called interview. They were the ones who broke that news to me, later. They were present in all those important moments, and today.
'The train is delayed by an hour. And I believe, you didn't listen to all those announcements! Did you?'  And they laughed.  I forced a smile. They were right. I didn't listen to any announcement made. I was deeply engrossed in my thoughts and the best I did was a glance at the watch.
For the next hour, we had 'Masala Chai' at the platform, talked about misses and stitches, failures and hopes, and the old school days. Everything was same then, except that there was little more fun. They had their share of failures and disappointments, too.
The wait was no longer getting heavier on me. All my negative thoughts had subsided. Finally, the train arrived. We wished and hugged each other.  The train was ready to depart.
The next time I come, I hope to see both of you again at the station. Goodbye.